The most comfortable cycling ever
Easy on, easy off
Technogym Cycle is barrier free with its open, walk-through design.
So comfortable you won't want to get off
With an extra wide surface and multi-density padding, the seat is the most comfortable in its class. Adjust it easily with the back lever while seated, even mid ride.
Everything under control
All the information you need to track your progress is clearly displayed on the console, to be used with or without a tablet.
Just 7.5 sq ft
At just 23.6 in wide, Technogym Cycle is a space-saving bike with a compact design.
Extra Stable
Technogym Cycle is stable and resistant. It is designed to support up to 180 kg of weight.


CPR TRAINING
Your heartbeat sets the intensity
While you train, the CPR system (Constant Pulse Rate) monitors your heart rate and automatically adjusts speed and resistance for a safe and efficient workout.
TECHNOGYM OUTDOORS
Train anywhere in the world
Free your mind riding through natural landscapes and city scenes from all over the planet.
CUSTOM WORKOUT
Personalised training
Choose a goal-based workout - such as time, distance, or calories - or select one of our many other options, ranging from pure cardio to HIIT sessions.
TECHNOGYM SESSIONS
An online trainer by your side
Choose your favourite workout and the trainer will guide you, boosting your motivation.
TECHNOGYM ROUTINES
Choose your goal and follow along
Follow the video exercises while Technogym Cycle automatically adjusts speed and resistance for a bespoke training session.
TECHNOGYM MUSIC PLAYLISTS
Follow the beat
Cover that extra mile with the energy of music. Choose your mood and go with the flow.
Synced with your Apple Watch
Install Technogym Live Connect on your Apple Watch to sync your heart rate and workout data to Apple Health.
The perfect bike for any space

Technogym Cycle is the ideal size for any space in your home, with a level of comfort unlike any other.
Technogym Cycle is so much more

Workout comfort and variety
One handlebar and two different cycling positions. Easily switch from a standard to a city bike in one single ride.

The pleasure of smooth pedalling
At just 17 cm, the reduced distance between the pedals ensures fluid pedalling and correct body position.

Instant adjustments
Conveniently placed on the handlebar, Fast Track Controls make it easy to change intensity on the fly.

Your iPad firmly in place
A special magnetic holder keeps your tablet secured and safe, even during your most intense workout.

Low energy consumption
Technogym Cycle recognizes when you step on and automatically goes into sleep mode when not in use thanks to its Wake-up Sensor.
Technogym Plus
Cycling, yoga, boxing, HIIT, strength and more video training Sessions, with the best trainers showing you proper exercise form and motivating you to achieve maximum results. Get 1 additional month free when you buy Technogym Cycle.
Technical Specifications
Dimensions (LxWxH)
1140 x 600 x 1360 mm (44.8 x 23.6 x 53.5 in)
Maximum user weight
180 kg
Max resistance at 160 RPM
600 w
Electrical specifications
Standby energy consumption
Less than 0.5 W
Power requirement
100-240 Vac ± 10% 50/60 Hz
Technical specifications and performance
Suitable for users whose height is
155-205 cm
Pedal crank length
172.5mm
Upgrade via Technogym Live App
Yes
100% recyclable packaging size (LxWxH)
1840 x 876 x 364 mm
CAD Models Download Area
2D / 3D / BIM Models     Download
Technogym Cycle: The Most Comfortable Home Exercise Bike Ever
With the comfortable Technogym Cycle, you can get in your daily exercise without worrying about busy roads or whether it is raining and snowing outside. When your exercise bike for the home gym is one of the most comfortable ever designed, it's even easier to stay motivated by your fitness plan. Whatever your age or fitness starting point, you can exercise safely on the Technogym Cycle.

It's easy to fit a daily cycle into your weight loss program, or to use cycling for building up your cardiovascular and respiratory health. Once you've been cycling for a while, you'll also notice your lower body and core muscles becoming stronger and more defined. This gives you the confidence and flexibility to undertake other forms of exercise as well as helping you avoid falls by promoting good balance.
Technogym Cycle Is the Ideal Upright Bike for Any Age
A daily workout on an upright exercise bike is a great approach to fitness for any age and a good way back to health after a period of illness. Cycling is a low-impact exercise that is kinder to joints, muscles, and bones than running. After a few training sessions on your Technogym Cycle, you should also notice a reduction in fatigue with improved energy and mood levels. The design of this small exercise bike is perfect if you have mobility limitations as its walk-through design makes getting on and off easily.

The extra-wide seat is covered with multi-density padding making it so comfortable you won't want to get off while the seat can be easily adjusted (even mid-routine) with the back lever. Our upright exercise bike can support body weights of up to 390 lbs and is designed to remain stable no matter how hard you cycle.
The comfortable handlebar can quickly be switched from standard to city bike cycling, adding variety to your sessions, while the small gap of six and a half inches between the pedals ensures a smooth, comfortable, and efficient ride. Whatever your age, once you're in the saddle, you'll feel as though you're cycling on the open road.
Stable and Compact: Technogym Cycle Is Perfect for the Home
Taking up just 7.5 square feet of floor space and measuring 44.8 inches in length, 23.6 inches in width, and 53.5 inches in height, this compact exercise bike is just the right size for any home. As well as being neat in size, the Technogym Cycle displays Italian design flair with every part carefully constructed from high-quality materials. This makes it good to look at and whether you have a dedicated home gym or use your cycle in another room of the home, it's guaranteed to complement your decor. This exercise bike for the home is also designed to save on your domestic energy consumption. It automatically puts itself into sleep mode when not in use and then its Wake-Up Sensor recognizes when you're nearby.
Endless Training Possibilities
Combine the in-built functions of the Technogym Cycle with Technogym Live and you have endless training possibilities. Download the Technogym App to your iPad or Android tablet and then all you have to do is place it on the console and you have an exercise bike with programs led by our experienced Virtual Trainers. This is also an exercise bike with a heart rate monitor (CPR or Constant Pulse Rate) that automatically adjusts the speed and resistance to give a safe workout that's personalized for you. With the intensity of your workout being set by your heart rate, there is no danger of overstretching yourself. If you prefer, you can easily control and change the intensity of your bike ride by using the Fast-Track Control which is conveniently placed on the bike's handlebar. Use the cycle's interface to program a goal-based workout. Set the time you want to cycle for, the distance you want to cover, or the calories you want to burn.
You can also dip into pure cardio sessions as well as set Hi-Low blocks to create a personalized HIIT (high-intensity interval training) session. Install Technogym Live onto your Apple Watch so that your heart rate and workout data sync with Apple Health. This is a great way of making your Technogym Cycle part of an all-around fitness program. With the endless training possibilities of your Technogym Cycle and the encouragement of Technogym Live, you'll soon be cycling towards your fitness goals.
Technogym Cycle: Pedal to Your Favorite Music or Through Unique Landscapes
Not only does Technogym Live deliver you a library of training sessions it also lets you free your mind when training. The Technogym Cycle is the best exercise bike with virtual courses. Escape from home and cycle through natural landscapes or city scenes from around the world or get into the cycling groove with our extensive music playlists. These cover pop, rock and roll, house music, and more. Having the energy of music to cycle to helps you go that extra mile or pump your legs just that little bit harder. You can also use your mobile device to tune into your favorite movies or TV shows as you work out. It doesn't matter how fast or hard you cycle; a special magnetic holder keeps your tablet securely attached to the console.

Want to know why Technogym Cycle gives you the best training experience?
Request your Technogym catalogue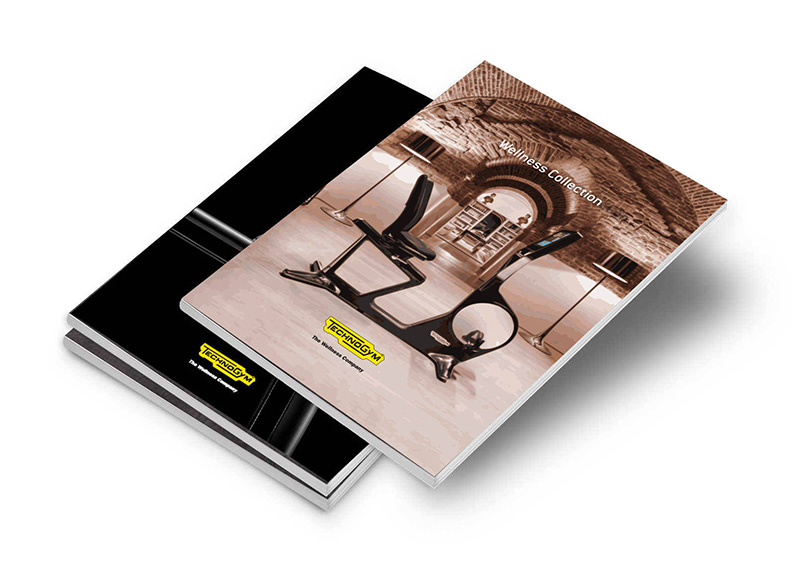 Receive your pdf catalogue to your email now

Discover our offer of Smart Equipment

Get more product contents and images